April 15, 2020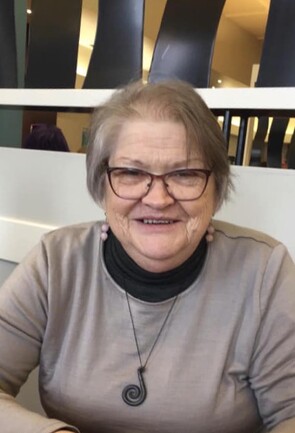 With extremely heavy hearts, Invercargill Repertory announce that Life Member and Past President Buffy (Elizabeth) Edlin sadly passed away yesterday evening. I'm sure you'll join with us in offering our deepest sympathy and condolences to Phill, Ilana, Abbey, Gareth and their extended family for the...
read more
Edlin Family Assistance
As the arts community in Invercargill grieve for the loss of this amazing lady, our thoughts turn to practical things. At a time when physical contact is difficult and when we would normally send flowers or bake a cake for the family, you may wish to contribute to a fund to assist in bringing Buffy's younger daughter Abbey and her family home to be with the family. Abbey and her husband Richard have recently been stood down from their jobs with the Melbourne Symphony Orchestra, massively adding to their feelings of grief and isolation.

The family is overwhelmed by the support they have received from you all.

We know you're keeping Buffy in your hearts at this hugely difficult time.

From loving friends of Buffy

To request further information or to make a donation please click on this email link:
MEDIA RELEASE REGARDING AGM
Dear Members
As a further consequence of the COVID-19 pandemic, our Annual General Meeting, which was scheduled for 15 April 2020, will not now take place on this date.
A postal ballot for election of officers will instead take place and advice of those nominated, and voting instructions, will be forwarded to you shortly.
As soon as it is safe to do so a special general meeting will be called.
We apologise for the inconvenience and trust that you will be able to be with us at a later date to review the business of our past year.
Stay safe.
Kind regards
Nigel Edwards
President
Repertory Invercargill
Invercargill Repertory Annual General Meeting 2020
Our AGM will be held on the 15th April, beginning at 7.30pm. Your nominations for Secretary and Committee members are welcome. Subscriptions paid for 2019 entitle members to voting rights at this AGM. Click on nomination form as shown on this page. The Financial Report and President's Report will be emailed in April. 2020 is going to be a great year for Rep. We encourage anyone who is interested in volunteering for the Society to come along and even stand for the Executive if you wish.
It is with regret that the committee of Repertory Invercargill advise that our production of Roger Hall's Last Legs, scheduled to take place from 25-28 March will not now take place at this time.
Our concerns for the safety of our patrons, cast and crew, as a consequence of the coronavirus pandemic means we cannot stage the play as planned.
We have not taken this step lightly but the safety of those people using our theatre and facilities is our primary concern. We are sorry to disappoint you all and we will reassess our options, as soon as the coronavirus risk makes it safe to do so.
If you have purchased tickets the ICC Booking office will be processing these and due to high demand of many shows being cancelled it could take up to 60 days.
We look forward to seeing everyone in our theatre again soon.
Above all, please be safe. Look after yourselves and those close to you.
Kind regards
Nigel Edwards
President
Invercargill Repertory
National Theatre At Home
During this unprecedented time, which has seen the closure of theatres, cinemas and schools, the National Theatre has launched National Theatre at Home providing access to content online to serve audiences in their homes.
Audiences around the world can stream NT Live productions for free via YouTube, and students and teachers have access to the National Theatre Collection at home, delivered in partnership with Bloomsbury Publishing.
A number of productions previously screened in cinemas globally as a part of National Theatre Live will be made available to watch via the National Theatre's YouTube channel.
The first production to be broadcast will be One Man Two Guvnors, featuring a Tony Award-winning performance from James Corden.
Each production will be free and screened live every Thursday at 7.00pm GMT and will then be available on-demand for seven days.
Other productions will include Sally Cookson's stage adaptation of Charlotte Brontë's Jane Eyre (9 April); Bryony Lavery's adaptation of Robert Louis Stevenson's Treasure Island on (16 April) and Twelfth Night (23 April).
During normal times the National Theatre extends its reach through digital programmes including NT Live, which broadcasts some of the best of British theatre to over 2,500 venues in 65 countries.