June 15, 2020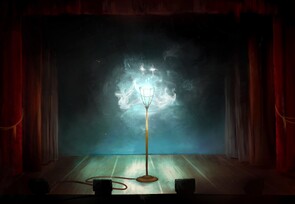 Congratulations everyone! Due to our team of 5,000,000 we have managed to restrict the Covid 19 pandemic. Now that the country is at Level 1, large gatherings including theatre are now able to recommence. As the foremost provider of the performing arts in the Invercargill community, it is with great...
read more
Friday, 24 July 2020
We're so excited to announce the very first The Broadway Hour Show!

The Broadway Hour is a relaxed, informal and intimate show that aims to showcase a broad range of performers, from beginners perhaps singing publicly for the first time, as well as our more experienced and familiar faces from the local Southland stage. The roughly hour-long show might include songs from lesser-known musicals, as well as some show tunes you know and love. No costumes, props, or choreography, just performers singing songs to an audience. Each singer will perform a song that fit the show's theme. These will be accompanied live by a pianist and introduced by an MC.

For the premiere of this brand new concept the theme is:
COMEDY. Funny, Fun, and Comedy Songs.
DOOR SALES ONLY : ADULT $10.00 School Age $5.00
NZ THEATRE FEDERATION BACKCHAT ARTICLE
INVERCARGILL REP LAMENTS THE LOSS OF ROGER HALL'S LAST LEGS – FOR THE MOMENT
"F..k". The last despairing word from the cunning character Garry as he surveys the cast chaos in the hilarious denouement of Roger Hall's rest home romp "Last Legs". Perfect (or nearly so) as the lights come up on this almost final rehearsal. It was a mild March Monday a week out from opening night – claimed our director clearly delighted with this first run through.

Not for long alas, as production secretary, the late Buffy Edlin (more of Buffy later) entered the auditorium of our theatre, fresh from an emergency meeting of the Executive with the black news that Last Legs was to be canned. Response from the two male characters in the cast was a spontaneous audible "f..k" and from the more circumspect females a whispered "oh no!". Resolving to resurrect the play – we had been rehearsing for six weeks – once this emergency was over, we left the premises slightly round-shouldered.

Lockdown began at midnight on the 25th of March and in the interim of the battle to banish the killer flu and the present (25th of May) nothing has changed in our theatre – the set is still there, the furniture and hand props in place as they were left on that very different world of mid- March 2020. Even the lighting bar is untouched. Arcane to say the least! All that is missing is the ghostly figure of the thwarted bride Miss Haversham.

At a very recent meeting, the Executive has concluded that Last Legs is to be reconvened and staged sometime in spring, albeit that the all clear has sounded.

It is now nine weeks since lockdown has confined us all to house and home and bubble. Repertory Invercargill, like all its national thespian groups must bear the brunt of "in-operation" – no income from membership, production and reduced subsidies from a usually very generous Invercargill Licensing Trust. Junior classes for primary / secondary aged young people have been postponed or terminated for the immediate future.

But rise phoenix-like from the ashes (well not quite) we will and plans and productions for 2021 have already been made and here's hoping that our economy generally is not too battered and bruised as the year progresses as its recovery has a pronounced bearing on our well- being and even our ultimate survival.

Our beloved production secretary, Buffy Edlin, actress and doyen of our dramatic / operatic community here in Invercargill was taken from us suddenly in early April after a sudden coronary event. A mellifluous contralto, Buffy's busy bustling life involved performance – almost continuously for over 30 years – as a choral soloist, chorus member in Musical Theatre and countless Repertory roles, as well as being involved in every aspect behind the scenes in administration. A triumphant farewell is currently being planned as we move into normality.

Jonathan Tucker
Director of Last Legs and Patron of Repertory Invercargill